The Anti-Fascist Approach to AI
A Conversation with Dan McQuillan
Did you miss us?! The Anti-Dystopians is back from its summer hiatus!
In this episode, I spoke with Dan McQuillan, a Lecturer in Creative & Social Computing in the Department of Computing at Goldsmiths University of London and the author the new book "Resisting AI: An Anti-Fascist Approach to Artificial Intelligence." We discussed how AI can obscure political decisions, the dangers of automated bureaucracy and algorithmic cruelty, what Max Weber and Hannah Arendt can tell us about AI, whether AI might bring back eugenics in a new coat, and how to resist AI and fascism across the world.
You can follow Dan on Twitter @danmcquillan or order the book here (psst, if you order it on Hive you can support your local bookstore!).
As always, you can listen to it here or subscribe here (Spotify) or here (Apple Podcasts). If you like us, please rate, review and share the Anti-Dystopians to help us get new listeners. If you want to support the production of the show, you can visit here.
---
Further reading from the episode:
---
What I've been reading
---
Important Tweet of the Week
If you are in Cambridge, UK today, please do come along to a vigil in solidarity with protestors in Iran.

bit.ly/iran-vigil-cam
Cambridge vigil in solidarity with Women, Students, Protesters in Iran. This Wednesday. Please come & bring a sign that reads Women, Life, Freedom, in a language that is important to you.🤍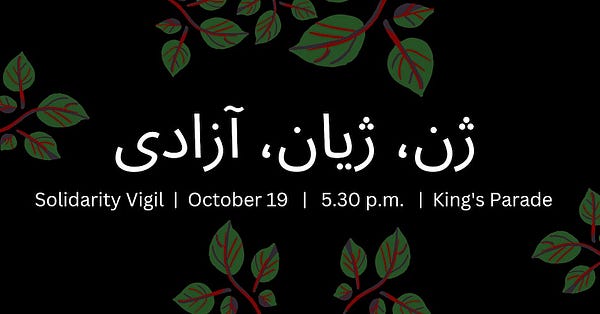 bit.ly
Vigil in Solidarity with Women, Students, Protesters in Iran
A vigil in solidarity with protesters in Iran. Bring a sign that reads 'Women, Life, Freedom' in any language that is important to you.
---
Tweet(s) of the Week